The Masked Singer
A singing competition where celebrities compete with each other but with one particularity: their identity is hidden by full masks. The British adaptation of the worldwide hit.
Keywords: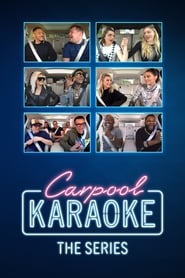 Carpool Karaoke
Carpool Karaoke
Celebrity pairings ride along in a car together as they sing tunes from their personal playlists and surprise fans who don't expect to see big stars belting out tunes one lane over. Based on the segment on The Late Late Show with James Corden.
Don't Tell the Bride
Don't Tell the Bride
Don't Tell The Bride is a British reality TV series shown on BBC Three in the United Kingdom, BBC America in the United States and The LifeStyle Channel in Australia amongst others.
As of 2012, six series of the show have aired, and the seventh will be filmed in 2013. In February 2012, it was announced that the show had been nominated for a Rose d'Or award for best 'Factual Entertainment' show.
Laurieann Gibson: Beyond the Spotlight
Laurieann Gibson: Beyond the Spotlight
Not Available
Winter Break: Hunter Mountain
Winter Break: Hunter Mountain
Not Available
3AM
3AM
Focusing on five disparate characters who each toil and/or party well into the night (hence the title), this latenight entry takes the "city that never sleeps" line and runs with it. The result is visually provocative but only mildly entertaining, and never for a moment truly convincing.
Jay Leno's Garage
Jay Leno's Garage
Starting as a YouTube series in 2006 and making it's way to television in 2015 on CNBC, former host of "The Tonight Show" Jay Leno does car and motorcycle reviews on classic cars, super cars like the McLaren P1, restored cars, vintage and sports cars.
Jay Leno's Big Dog Garage is located in Burbank, California, near Bob Hope Airport. In 2011 the show won a Primetime Emmy Award for "Outstanding Special Class — Short-Format Nonfiction Program". It is distributed by NBC Entertainment's digital division.
Best Baker In America
Best Baker In America
Let the Baking Battle Begin Eight of America's most-talented bakers will go head-to-head at the oven for the chance to claim $25,000 and the title of Best Baker in America after weeks of demanding challenges.
Gucci Mane & Keyshia Ka'oir: The Mane Event
Gucci Mane & Keyshia Ka'oir: The Mane Event
Follows the twists and turns of the hip-hop power couple as they work to blend their families and defy the odds as they set to prepare for the most extravagant celebrity wedding of the year.
Dr. Miami
Dr. Miami
MichaelisDr.Miami,hesnapchatsandfilmshisbodytransformationsofhismanydifferentclients.However,Dr.Miamiisnotallworkandnoplay.
Dating In The Dark
Dating In The Dark
Not Available
Treasure Island 2
Treasure Island 2
TheIslandersarestruggling,butJackwrestlesapythonfordinner.EmilyandElissaspotaboxofmoneywhilethey'relookingforwater.DotheytellCatorhidethecashwhileherbackisturned?
Country:
Food Fantasies
Food Fantasies
Do you ever wonder what mouth-watering dishes our favorite culinary connoisseurs daydream about daily? "Food Fantasies" shows us exactly what chefs would make when each is presented the same hypothetical culinary fantasy such as: "What's the one dish you would make if calories didn't count?" And "what's the meal you would make for your nine-year-old self?" Join chefs Eddie Jackson, Nyesha Arrington, Jernard Wells, Darnell Ferguson, Danni Rose and more as they create and indulge their fantasy dishes.
A wide selection of free online movies are available on GoStreams. You can watch movies online for free without Registration.