Letterbox
Hosted by Mel Giedroyc, Letterbox is a gameshow where pairs of contestants go head to head to crack a series of passwords in an attempt to take home £2,500 in cash. As the contestants solve the passwords, they win letters that help them later in the game. These letters better their chances of cracking the final password which unlocks the letterbox holding the cash prize. But if they end up as the losing pair along the way, they have to surrender all the letters they have won to the winning pair, who then go through to the semi-final. This simple yet addictive word game, created by David Young, producer of The Weakest Link and Eggheads, is designed to be played along at home with friends and family – can they solve the mystery word and crack open the letterbox?
Keywords:
Late Nite Eats
Late Nite Eats
Chef Jordan Andino is on the hunt to find restaurants that reign supreme in the late-night food scene. He meets with passionate chefs to taste their most popular dishes and learn how they are revolutionizing after-hours dining.
Haunting in the Heartland
Haunting in the Heartland
Paranormal investigator and documentary filmmaker Steve Shippy visits Midwestern towns that have been traumatized for generations by ripples of fear. Shippy uses his own personal experiences to make intimate connections with the families who've reached out to him for help. He then puts the puzzle pieces together to identify and decipher the larger mystery of the town's haunting.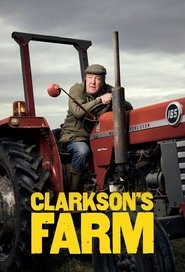 Clarkson's Farm
Clarkson's Farm
Follow Jeremy Clarkson as he embarks on his latest adventure, farming. The man who on several occasions claims to be allergic to manual labour takes on the most manually labour intensive job there is. What could possibly go wrong?
7 Days
7 Days
7 Days is a New Zealand comedy gameshow similar in some ways to the British program Mock the Week, hosted by Jeremy Corbett and created by The Down Low Concept. Paul Ego and Dai Henwood usually appear on each episode, along with other comedians, who form teams and answer questions about news stories from the last week.
The Circle
The Circle
Status and strategy collide in this social experiment and competition show where online players flirt, befriend and catfish their way toward $100,000.
Country:
Ghost Adventures: Serial Killer Spirits
Ghost Adventures: Serial Killer Spirits
Exploring haunted locations associated with infamous serial killers, Zak Bagans and the Ghost Adventures team – Aaron Goodwin, Jay Wasley and Billy Tolley – seek to document whether malicious energy has been left behind by sadistic killers and their evil acts.
Live PD: Police Patrol
Live PD: Police Patrol
An unfiltered look at police departments in action.
The Final Table
The Final Table
Team of chefs vie to impress some of the world's toughest palates as they whip up iconic dishes from different nations in this fast-paced competition.
Seven Year Switch
Seven Year Switch
Four married couples try to save their marriages by entering into a social experiment. During this experiment, the four couples switch spouses and live with another participants spouse for two weeks as husband and wife.
The Dude Perfect Show
The Dude Perfect Show
In this show, you'll meet the five guys behind the viral YouTube magic: Tyler, the bearded guy; Cody; the tall one; Garrett; the purple hoser; and Coby and Cory, the twins. Operating from their Dude Perfect headquarters in Frisco, Texas, Dude Perfect has the job every kid dreams of. Whether it's working with celebrity guest stars like Luke Bryan, Dale Earnhardt Jr and Aaron Rodgers, or prepping for their next battle video, Giant Basketball Arcade, Lawnmower Race or Epic Snow Battle, these guys have made a career out of having fun.
Amazingness
Amazingness
Dyrdek introduces the world to the most ridiculously talented young people in the country – an eclectic and diverse mix of amateur and viral talent, who compete to earn the top spot. The first act goes to the Top Spot, but every following performer has the opportunity to dethrone them. The last one standing will have the "Amazingness" of a champion and walk away with $10,000 dollars in cash.
My Big Fat Fabulous Life
My Big Fat Fabulous Life
A series following a North Carolina woman who was diagnosed with an endocrine system disorder called polyscystic ovary syndrome (PCOS) that caused her to gain hundreds of pounds.
A wide selection of free online movies are available on GoStreams. You can watch movies online for free without Registration.