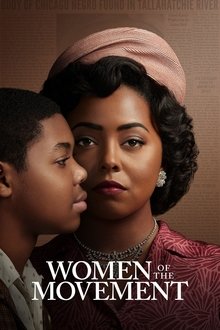 Women of the Movement
A limited series focusing on Mamie Till Mobley, who devoted her life to seeking justice for her son Emmett Till following his brutal murder in the Jim Crow South.
IMDb:

7.9 /

Release : 2022
Status:

Returning Series

Country : United States
Duration:

n/A
Not Safe for Work
Not Safe for Work
Comedy drama series portraying a generation struggling with the realities of 21st Century working life and the camaraderie and friendships that bloom in times of difficulty.
Ghost Adventures
Ghost Adventures
Paranormal investigator Zak Bagans and his crew, Nick Groff and Aaron Goodwin, search for haunted locations both domestically and internationally. During their investigations, Zak and crew acquaint themselves with the general area; interview locals about the hauntings; and go face-to-face with the evil spirits who reportedly haunt these locations.
The Family Man
The Family Man
Follow the journey of Srikant Tiwari, a man who tries to strike a balance between the responsibilities of his family while working for a highly secretive special cell of the National Intelligence Agency, attempting to spot and prevent large-scale terror attacks on the country and its citizens.
Against the Wall
Against the Wall
Against the Wall is an American police drama television series created by Annie Brunner. The series starred Rachael Carpani as Abby Kowalski, a police detective who recently joined the Internal Affairs division of the Chicago Police Department.
The series was broadcast in the United States on the cable channel Lifetime, and is a production of Universal Cable Productions. It premiered on July 31, 2011, following Drop Dead Diva. Lifetime opted not to renew the show for a second season.
In Contempt
In Contempt
The procedural is set in the fast-paced world of a legal aid office in New York City and follows Gwen Sullivan, an opinionated attorney whose passion for her job and clients make her arguably the most talented public defender in her district.
Honour
Honour
Based on the heartbreaking true story of Banaz Mahmod, the young Londoner murdered by her own family for falling in love with the wrong man, Honour follows Detective Chief Inspector Caroline Goode's passionate search to discover the fate of missing 20-year old Banaz.
Z: The Beginning of Everything
Z: The Beginning of Everything
A biography series based on the life of Zelda Sayre Fitzgerald, the brilliant, beautiful and talented Southern Belle who becomes the original flapper and icon of the wild, flamboyant Jazz Age in the 20s. Z starts before Zelda Fitzgerald meets the unpublished writer F. Scott Fitzgerald and moves through their passionate, turbulent love affair and their marriage-made in heaven, lived out in hell as the celebrity couple of their time.
Ready For This
Ready For This
Six teens arrive at Arcadia House to pursue their dreams. For some it's the opportunity of a lifetime, for others it's a last chance. All are strangers and the last thing they expect to find is family.
Diff'rent Strokes
Diff'rent Strokes
The series stars Gary Coleman and Todd Bridges as Arnold and Willis Jackson, two African American boys from Harlem who are taken in by a rich white Park Avenue businessman named Phillip Drummond and his daughter Kimberly, for whom their deceased mother previously worked. During the first season and first half of the second season, Charlotte Rae also starred as the Drummonds' housekeeper, Mrs. Garrett.
Ingobernable
Ingobernable
The First Lady of Mexico has big plans to improve conditions for the country. As she starts to lose faith in her husband, President Diego Nava, she finds herself at a crossroad where she will need to find a way to deal with a great challenge.
Girls
Girls
The assorted humiliations, disasters and rare triumphs of four very different twenty-something girls: Hannah, an aspiring writer; Marnie, an art gallery assistant and cousins Jessa and Shoshanna.
Candle in the Tomb
Candle in the Tomb
When archaeologist Shirley Yang learns of her father's disappearance, she returns to China and enlists the help of tomb raiders to track him down.
A wide selection of free online movies are available on GoStreams. You can watch movies online for free without Registration.