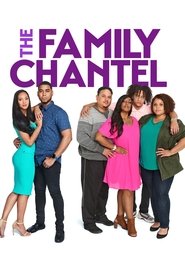 The Family Chantel
The lives of 90 Day Fiancé: Happily Ever After? fan-favorites Pedro and Chantel and their lively in-laws. Buckle up as they try to move past their differences and come together as an extended family.
Keywords:
Game On!
Game On!
Two teams of three with a rotating roster of stars compete in over-the-top physical challenges, absurd trivia and epic field competitions. Each week, one team will be crowned the winner, while the losing team must "take the L" in an embarrassing punishment.
Revenge Body With Khloe Kardashian
Revenge Body With Khloe Kardashian
Revenge Body with Khloé Kardashian is an upcoming American reality television series starring Khloé Kardashian that is scheduled to premiere on E!. Announced on December 16, 2015, the six-episode series will feature two people in each episode who will be getting a makeover using assistance of personal trainers and stylists leading to a "major transformation inside and out". Six one-hour episodes have been ordered. It will premiere on January 12, 2017. A special preview episode will air on November 23, 2016. "We are so excited to partner with Khloé Kardashian to help these deserving people seek the ultimate revenge," said Jeff Olde, an executive producer of the network. "By tapping her unlimited resources, Khloé offers transformations of true Hollywood proportions," he also added
Road Rivals
Road Rivals
Meet Russ Malkin and Charley Speed, chalk and cheese when it comes to their tastes in travel and now they're off on an epic journey through Europe and the US together. Russ is an adventurer, having travelled the world with Ewan McGregor on 'Long Way Down'. Charley is a contributor to the international luxury magazine, Lusso, was VH1 Vogue's Male Model of the Year, ex-Britain's Next Top Model judge, and doesn't camp.
The Hustler
The Hustler
A team of contestants must work together to answer questions worth $10,000 each. But one member of the group has been given the answers in advance, and that person—"The Hustler"—will win the entire pool of the money if they are able to keep their identity a secret.
I Am Cait
I Am Cait
Follows Caitlyn Jenner living her life as a transgender woman. The docu-series also explores what her transition means for the people closest to her, including her children and stepchildren, and how those relationships are affected.
Home Free
Home Free
Couples compete in weekly challenges to restore run-down homes with their DIY and home improvement skills for the chance of winning their dream home.
Love & Hip Hop
Love & Hip Hop
When people think of the hip hop life, they think of the players – the men who shape the music and the blinged-out lifestyle that comes with success. The fact is the hip hop life is different for the women involved: the spouses, girlfriends or artists trying to define themselves in a world where men are still calling the shots.
Dancing with the Stars
Dancing with the Stars
Dancing with the Stars is a New Zealand television series based on the British series Strictly Come Dancing. The show introduces eight local celebrities paired with professional ballroom danceers who each week compete against each other in a competition to impress a panel of judges and the viewing public in order to survive potential elimination. Through a telephone poll, viewers vote for those couples who should stay. 50% of the public votes and the average score given by the panel of judges goes towards deciding who should leave. Proceeds from the voting will go to the celebrity contestant's charity of choice.
Big Brother Australia
Big Brother Australia
Big Brother Australia is the Australian version of the international Big Brother reality television series.
First Dates
First Dates
Interactive dating experiment in which real dates are filmed, and then viewers get the chance to apply to date the unsuccessful participants the following week.
Hidden Potential
Hidden Potential
California builder and designer Jasmine Roth is on a mission to make sure not all suburban homes look the same. Jasmine transforms builder-basic houses into custom dream homes by giving them features that stand out from the crowd.
Born This Way
Born This Way
Born This Way follows a group of young adults with Down syndrome as they pursue their dreams and explore their friendships, romantic relationships, and work.
A wide selection of free online movies are available on GoStreams. You can watch movies online for free without Registration.