Tattoo Girls
Set against the backdrop of Ink Ink, a tattoo shop like no other—owned and operated by young entrepreneur Kelsey and employing an all-female lineup of tattoo artists—the series explores their friendships and working relationships as they navigate everyday life.
Keywords:
I Survived a Zombie Apocalypse
I Survived a Zombie Apocalypse
I Survived a Zombie Apocalypse is a horror-themed game show set in the future after a nationwide epidemic has transformed most of the country's population into ravenous zombies. The contestants have to survive in the Monroe Shopping Village and need to work together to secure their makeshift base as they try and avoid any contact with the flesh-eaters. Anybody still "alive" after seven days is then rescued and sent to a tropical quarantine zone as a reward.
Four Rooms
Four Rooms
Four Rooms is a British television series that began airing on Channel 4 on 24 May 2011. The show, which is currently hosted by Anita Rani sees members of the public attempt to sell their valuable and collectible items in exchange for a cash offer from one of the four dealers.
The Four: Battle for Stardom
The Four: Battle for Stardom
Four super-talented and fiercely competitive singers, chosen from their auditions by the show's panel of music industry experts, will try to defend their coveted spots on the stage, as they are challenged individually by new singers determined to replace them.
Road Rivals
Road Rivals
Meet Russ Malkin and Charley Speed, chalk and cheese when it comes to their tastes in travel and now they're off on an epic journey through Europe and the US together. Russ is an adventurer, having travelled the world with Ewan McGregor on 'Long Way Down'. Charley is a contributor to the international luxury magazine, Lusso, was VH1 Vogue's Male Model of the Year, ex-Britain's Next Top Model judge, and doesn't camp.
Home Town
Home Town
Erin and Ben Napier, a small town Mississippi couple, renovate neighborhood historical houses giving them modern and affordable updates. From Erin's imaginative hand sketches to Ben's custom handiwork, this couple is bringing homes back to life and making sure their small town's future is as bright as its past.
Rising Star
Rising Star
A musical talent show, in which contestants showcase their talent and the viewers are the judges, voting through an application during song performances.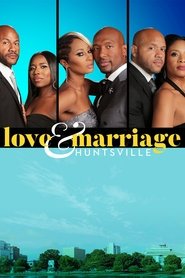 Love & Marriage Huntsville
Love & Marriage Huntsville
Follow the lives of three high-powered African-American couples who come together to revitalize the thriving city of Huntsville, Alabama through their joint real estate venture, The Comeback Group.
Skin Wars
Skin Wars
An hour-long competition show that seeks to find the most talented and versatile body painters in the country.
Geordie Shore: Big Birthday Battle
Geordie Shore: Big Birthday Battle
Geordie Shore: Big Birthday Battle, a spin-off series of Geordie Shore, a British television programme based in Newcastle upon Tyne was confirmed on 6 February 2016 following cast member Scott's win on Celebrity Big Brother it was announced that he'd be filming for the next series of Geordie Shore the next day. However, on 12 February 2016 it was confirmed that the cast past and present would be reuniting for a mini-series to celebrate five years of the show.[1] The series began airing on 10 May 2016.[2] It features all of the current cast members and the return of former cast members Daniel Thomas-Tuck, James Tindale, Jay Gardner, Kyle Christie, Ricci Guarnaccio and Sophie Kasaei. The only past cast members that did not return for this series were Greg Lake, Rebecca Walker and Vicky Pattison.[3] This series is classified as "Geordie Shore: Big Birthday Battle" and not billed as the thirteenth series. The series also features a new twist with Gaz and Charlotte going head-to-head as team captains planning the best nights out for their team. This series includes a special episode airing on the fifth birthday, on 24 May 2016 featuring the Geordie's reactions of previous episodes. The series also includes the show's 100th episode, airing on 31 May 2016. On 1 June 2016 it was announced that original cast member Charlotte Crosby had quit the show and that this would be her final series.[4]
Country:
Buying It Blind
Buying It Blind
Follows six couples on a home-buying journey like never before as they purchase a property without ever setting foot inside.
Hollywood Darlings
Hollywood Darlings
In this improvised comedy, the three former child stars – Jodie Sweetin, Christine Lakin, and Beverley Mitchell – play exaggerated versions of themselves in their current Hollywood lives. With the support of one another, this girl squad can take on anything when it comes to parenting, marriage, friendship and revived careers in Hollywood.
Brother vs. Brother
Brother vs. Brother
Team Jonathan vs. Team Drew. The Brothers get two teams built of various skills (contractors, designers, realtors) & have a series of competitions, each week sending home a competitor. The final man (or woman) standing takes the title of Brother vs. Brother.
A wide selection of free online movies are available on GoStreams. You can watch movies online for free without Registration.