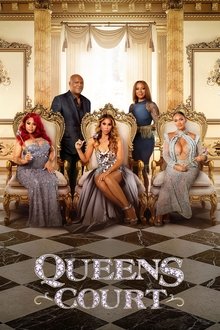 Queens Court
Three famous, single women are guided by Hollywood power couple Holly Robinson Peete and Rodney Peete through the ups and downs of dating 21 confident and successful prospective suitors while developing a sisterhood supporting each other on their quests to find a King fit for a Queen.
IMDb:

10 / 1

Release : 2023
Status:

Returning Series

Country : United States
Duration:
Naked and Afraid
Naked and Afraid
What happens when you put two complete strangers – sans clothes – in some of the most extreme environments on Earth? Each male-female duo is left with no food, no water, no clothes, and only one survival item each as they attempt to survive on their own.
Ink Master
Ink Master
Hosted by rock legend Dave Navarro and judged by icons of the tattoo world, Chris Núñez and Oliver Peck, a group of the country's most creative and skilled tattoo artists compete for a hundred thousand dollars and the title of Ink Master. The stakes couldn't be higher with "living canvasses" donating their skin to be permanently marked in this adrenalized competition elimination.
Your Husband Is Cheating On Us
Your Husband Is Cheating On Us
Shining a light on the world of the urban theater and revealing the show behind the show, producer and director JD Lawrence mounts his new production of the stage play Your Husband Is Cheating On Us, implementing unorthodox creative methods with his cast.
Nitro Circus Live
Nitro Circus Live
Nitro Circus Live is a Reality television show. It follows Travis Pastrana and the Nitro Circus Crew as they perform live in Australia and New Zealand.
The Christmas Caroler Challenge
The Christmas Caroler Challenge
AdozenextraordinaryChristmascarolinggroups,eachwiththeirownstylizedbrandofperformance,performandcelebratethegreatChristmasmusicthatwe'veallcometolove.Viewersmeetthesegroupsfromelaborateultra-traditionalvirtuosoperformancestothosewithunexpectedtwistsontheclassicChristmascarols.
Mutiny
Westside
Westside
Nine struggling musicians share the spotlight in this deeply personal reality series about the challenges and thrills of staging a Hollywood showcase.
Hardcore Pawn
Hardcore Pawn
Hardcore Pawn is an American reality television series produced by RDF USA and Richard Dominick Productions for truTV about the day-to day operations of American Jewelry and Loan, a family-owned and operated pawn shop in Detroit, Michigan's 8 Mile Road corridor.
The series premiered on August 16, 2010, delivering two million viewers, setting a record as truTV's most-watched series premiere ever.
GHOSTS OF SHEPHERDSTOWN
GHOSTS OF SHEPHERDSTOWN
Destination America will investigate the paranormal activities within Shepherdstown, West Virginia, in its latest series. Produced by Blade Brothers outfit MAK Pictures, Ghosts of …
Most Haunted
Most Haunted
Most Haunted is a British paranormal mystery documentary reality television series. The series was first shown on 25 May, 2002 and ended on 21 July, 2010. Led by Yvette Fielding, the programme investigated purported paranormal activity in many locations in the United Kingdom, Republic of Ireland and other countries. It was produced by Antix Productions and broadcast on the satellite and cable channels Living TV, Livingit, and Channel One. In the United States it was broadcast on the Travel Channel.
Borat's American Lockdown
Borat's American Lockdown
Live the real-life drama of Sacha Baron Cohen, as Borat Sagdivev, where he spends five days at the peak of the Covid-19 pandemic with two conspiracy theorists.
Married at First Sight
Married at First Sight
Working with leading relationship experts, eight British singles are carefully match-made into four married couples, who each meet each other – for the very first time – at their wedding. We'll follow them as they marry, honeymoon, meet the in-laws and set up home, all the while getting to know one another more and more deeply, to see if the matchmakers have got it right and they will have a future together.
A wide selection of free online movies are available on GoStreams. You can watch movies online for free without Registration.