Spin Me Round
When the manager of an Italian restaurant chain wins the opportunity to attend the franchise's educational immersion program in Italy, what she thought would be a romantic getaway devolves into chaos and catastrophe.
My Extraordinary Summer with Tess
My Extraordinary Summer with Tess
As the youngest of the family, Sam is haunted by the notion that someday he could become the last remaining survivor, all alone. On a family vacation at the beach, he meets the unconventional Tess, who carries her own secrets around with her and shows him how the present moment can win out over memories and anxiety about what's yet to come.
Different Flowers
Different Flowers
Uptight Millie Haven has always followed the rules, but when she has doubts before her big Kansas City wedding, her attitude-prone little sister Emma, the least likely of heroes, comes to the rescue. They embark on a spontaneous roadtrip to their grandmother's farm where, with the help of Grandma Mildred, they rediscover their bond.
One Chance
City Island
City Island
The Rizzos, a family who doesn't share their habits, aspirations, and careers with one another, find their delicate web of lies disturbed by the arrival of a young ex-con brought home by Vince, the patriarch of the family, who is a corrections officer in real life, and a hopeful actor in private.
Roy Wood Jr.: Father Figure
Roy Wood Jr.: Father Figure
Roy Wood Jr. tackles freeway protests, examines the origin of the blues, and explains why the Confederate flag is sometimes helpful.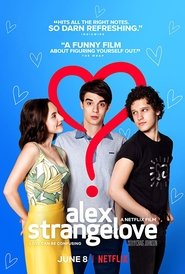 Alex Strangelove
Alex Strangelove
Alex Truelove is on a quest to lose his virginity, an event eagerly awaited by his patient girlfriend and cheered on with welcome advice by his rowdy friends. But Alex, a super gregarious dude, is oddly unmotivated. A magical house party throws Alex into the presence of Elliot, a hunky college guy, who pegs Alex as gay and flirts hard. Alex is taken aback but after a series of setbacks on the girlfriend front he takes the plunge and learns some interesting new facts about himself.
Samurai Rock
Samurai Rock
Masami is a guitarist who dreams of his band "Rhythm Head" winning the Grand Prix at the Japan Music Carnival. History, and the warlords of 16th century feudal Japan are the very last thing on his mind. But when Rhythm Head are performing in Nagoya, a mysterious lightning strike causes not only a power blackout, but also a "time slip", in which two of Japan's preeminent samurai-era figures, Nobunaga Oda and Hideyoshi Toyotomi are transported to present day Japan. To Rhythm Head's manager, the duo are the perfect vehicle for the band to transition to an idol group, increase their chances of becoming famous, winning accolades and taking away the Japan Music Carnival top prize. Could this be the beginning of a new type of music, courtesy of a brand new band Samurai Rock?
The Immoral Mr. Teas
The Immoral Mr. Teas
Mr. Teas is a door to door salesman for dentists' appliances. Everywhere he goes he encounters beautiful "well-developed" nude women, which of course stir his interest. The only sound in the film is the voice of a narrator and a very monotonic musical theme played on the clarinet or some similar instrument.
Praktan
Praktan
A married woman on journey from Mumbai to Howrah by train meets her ex-husband.
Nelly Rapp – Monsteragent
Nelly Rapp – Monsteragent
Nelly and her dog London are about to spend autumn break with her uncle Hannibal. Soon she noticed that he doesn't live a quiet life. Her uncle is a Monster agent. Nelly gets dragged in to an adventure filled with ghosts, vampires and werewolves.
It Could Happen to You
It Could Happen to You
Charlie Lang is a simple, kindhearted New York City cop. When he realizes he has no money to tip waitress Yvonne Biasi, Lang offers her half the winnings of his lottery ticket. Amazingly, the ticket happens to be a winner, in the sum of $4 million. True to his word, Lang proceeds to share the prize money with Biasi, which infuriates his greedy wife, Muriel. Not content with the arrangement, Muriel begins scheming to take all the money.
A wide selection of free online movies are available on GoStreams. You can watch movies online for free without Registration.