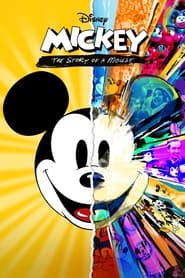 Micky: Die Geschichte einer Maus
Mickey Mouse is one of the most enduring symbols in our history. Those three simple circles take on meaning for virtually everyone on the planet. So ubiquitous in our lives that he can seem invisible, Mickey is something we all share, with unique memories and feelings. Over the course of his nearly century-long history, Mickey functions like a mirror, reflecting our personal and cultural values back at us. "Mickey: The Story of a Mouse" explores Mickey's significance, getting to the core of what Mickey's cultural impact says about each of us and about our world.
Beware of Christians
Beware of Christians
Four college students travel to Europe to escape their routine faith and gain a radically new perspective on following Jesus.
Kufi Krew: An American Story
Kufi Krew: An American Story
Fast friends and founders of the first Muslim fraternity in the United States struggle with forbidden love, cultural taboos and generational conflict in this heart-warming story about coming-of-age in America.
Mike Birbiglia: My Girlfriend's Boyfriend
Mike Birbiglia: My Girlfriend's Boyfriend
Mike Birbiglia shares a lifetime of romantic blunders and misunderstandings. On this painfully honest but hilarious journey, Birbiglia struggles to find reason in an area where it may be impossible to find: love.
Returning Citizens
Returning Citizens
Not Available
Summer of Soul (…Or, When the Revolution Could Not Be Televised
Summer of Soul (…Or, When the Revolution Could Not Be Televised
During the same summer as Woodstock, over 300,000 people attended the Harlem Cultural Festival, celebrating African American music and culture, and promoting Black pride and unity. The footage from the festival sat in a basement, unseen for over 50 years, keeping this incredible event in America's history lost—until now.
Once Upon a Time in China III
Model Citizens
Model Citizens
Somewhere in the world right now–much closer than you think–people are playing with trains. You might not see them at first, but they're there. In basements. In garages. In converted Army barracks. They're among the world's most compelling underground communities.
What the Health
What the Health
What the Health is a ground breaking feature length documentary from the award-winning filmmakers of Cowspiracy, that follows the exciting journey of intrepid filmmaker, Kip Andersen, as he uncovers the impacts of highly processed industrial animal foods on our personal health and greater community, and explores why leading health organizations continue to promote the industry despite countless medical studies and research showing deleterious effects of these products on our health.
When Stand Up Stood Out
When Stand Up Stood Out
Documentary covering what came to be known as "The Boston Gold Rush" of the late 1970s and early 1980s, when Boston stand-up comedians like Dennis Leary, Steven Wright and Colin Quinn burst upon the national scene, giving audiences a taste of the hard-edged social and political commentary that came out of that city.
A Fierce Green Fire
A Fierce Green Fire
It is the largest movement the world has ever seen, it may also be the most important – in terms of what's at stake. Yet it's not east being green. Environmentalists have been reviled as much as revered, for being killjoys and Cassandras. Every battle begins as a lost cause and even the victories have to be fought for again and again. Still, environmentalism is one of the great social innovations of the twentieth century, and one of the keys to the twenty-first. It has arisen at a key juncture in history, when humans have come to rival nature as a power determining the fate of the earth.
Le train d'Hitler: bête d'acier
Le train d'Hitler: bête d'acier
Trace the history of Hitler's armored private train, a 15-car mobile headquarters boasting state-of-the-art communications and anti-aircraft cannons.
(T)ERROR
(T)ERROR
After working for more than 20 years as a counterterrorism informant for the FBI, ***** has a choice to make. He can stay home to raise his son or do one last high-stakes job for the Bureau. Infiltrating terror networks and befriending suspected terrorists is *****'s specialty. He is one of a growing number of covert operatives in America who straddle the murky line between preventing crimes and inventing them.
A wide selection of free online movies are available on GoStreams. You can watch movies online for free without Registration.