Little Manhattan
Ten-year-old Gabe was just a normal kid growing up in Manhattan until Rosemary Telesco walked into his life, actually into his karate class. But before Gabe can tell Rosemary how he feels, she tells him she will not be going to public school any more. Gabe has a lot more to learn about life, love, and girls.
Phoenix, Oregon
Phoenix, Oregon
Defying the haze of mid-life, two friends seize an unlikely opportunity to reinvent their lives, quitting their jobs to restore an old bowling alley and serve the "world's greatest pizza."
Lake Fear
Lake Fear
Four girls go to a cabin in the woods, which is inhabited by evil. This cabin then ensnares them in a labyrinth of macabre as they must battle their way out.
Daddy! Daddy! Fünf Nervensägen und ein Vater
Daddy! Daddy! Fünf Nervensägen und ein Vater
A broadway playwright is burning the candle at both ends. He is dealing with pressure from a production nearing premiere, a wife who is leaving him, and 5 children 4 of which belong to her.
Mike Epps: Don't Take It Personal
Mike Epps: Don't Take It Personal
Mike Epps wastes no time bringing his unapologetic and raunchy swagger to a howling live audience at the historic Orpheum Theater in Los Angeles.
Becoming Santa
Becoming Santa
Starring "Family Ties" Michael Gross and Meredith Baxter, the two reunite in "Becoming Santa" as Mr. and Mrs. Claus. The film also stars Laura Bell Bundy, Tony Calero and Jesse Hutch. The movie follows Holly, who has never introduced her toy designer boyfriend Connor to her family and has only revealed that they live "up north." As their relationship intensifies, Holly knows she can't wait any longer and decides to bring Conner to meet her parents for Christmas. Connor is in for a shock when he discovers he's actually headed to the North Pole and Holly's parents are none other than Santa and Mrs. Claus! Connor embraces his time there despite running into Holly's ex, Jack Frost. Will Conner be ready to take their relationship to the next level – especially when it means he would be next in line to be Santa.
Big Match
Big Match
Choi Ik-Ho (Lee Jung-Jae) is a martial arts star with talent for action and humor. But one day, he is framed for murder. Ace (Shin Ha-Kyun) is a game planner, who makes a game for the Korean upper class. He is a villain who makes a city into a big gameboard through technology. Ace and Choi Ik-Ho become adversaries as Choi Ik-Ho jumps into the game to save his brother. -asianwiki
When We First Met
When We First Met
Noah spends the perfect first night with the girl of his dreams Avery but gets relegated to the friend zone. He spends the next three years wondering what went wrong – until he gets the unexpected chance to travel back in time and alter that night, and his fate, over and over again.
The Hundred-foot Journey
The Hundred-foot Journey
A story centered around an Indian family who moves to France and opens a restaurant across the street from a Michelin-starred French restaurant.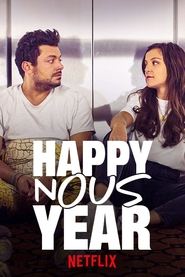 Happy Nous Year
Happy Nous Year
En route to a party, two strangers get stuck in an elevator on New Year's Eve — and find themselves connecting in unexpected ways.
Fall Into Winter
Fall Into Winter
Keely is aghast when her brother sells his half of their family-owned, upscale candy shop to his best friend from high school orcing a sudden urgency to find connection and common ground. Keely has been hurt before; change is her new nemesis. Brooks' past is a mirror of Keely's. He, too, has a fortress around his heart. Fate brings the pair together. Might it also offer new beginnings?
Guns Akimbo
Guns Akimbo
An ordinary guy suddenly finds himself forced to fight a gladiator-like battle for a dark website that streams the violence for viewers. Miles must fight heavily armed Nix and also save his kidnapped ex-girlfriend.
6:66 PM
6:66 PM
A reality TV crew's staged investigation into the paranormal becomes terrifyingly real when the house they're exploring turns out to be haunted by the ghost of a serial killer.
A wide selection of free online movies are available on GoStreams. You can watch movies online for free without Registration.