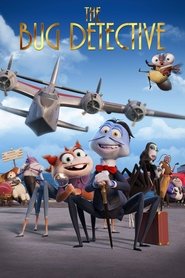 Inspector Sun y la maldición de la viuda negra
Shanghai, 1934. In an insect world parallel to that of humans, veteran Inspector Sun, a lone spider, leads his last mission against his archenemy the Red Locust, before embarking on a well-deserved retirement. His vacation aboard a Pan Am clipper between Shanghai and San Francisco comes to an abrupt end when millionaire Dr. Spindelthorp is found murdered. What begins as a routine case for Sun will ultimately decide the fate of humanity.
Barbie and Her Sisters in A Puppy Chase
Barbie and Her Sisters in A Puppy Chase
Barbie and her sisters go to an island paradise for a dance competition, but they must work together as a team to find their pets after their furry friends go missing at a horse festival.
The BFG
The BFG
Sophie is snatched from her orphanage early one morning by the BFG (Big Friendly Giant), whom she witnesses engaged in mysterious activities. She is soon put at ease, as she learns that BFG's job is to collect, catalog and deliver pleasant dreams to children. She joins him that night, but a mean giants follow them, planning to eat the children of the world.
Purl
Purl
Purl, an earnest ball of yarn, gets a job at a fast-paced, male-centered startup company. Things start to unravel as Purl tries to fit in with this tight-knit group, but she must ask herself how far is she willing to go to get the acceptance she yearns for and if, in the end, it is worth it.
Mickey, Donald, Goofy The Three Musketeers
Mickey, Donald, Goofy The Three Musketeers
In Disney's take on the Alexander Dumas tale, Mickey Mouse, Donald Duck and Goofy want nothing more than to perform brave deeds on behalf of their queen (Minnie Mouse), but they're stymied by the head Musketeer, Pete. Pete secretly wants to get rid of the queen, so he appoints Mickey and his bumbling friends as guardians to Minnie, thinking such a maneuver will ensure his scheme's success. The score features songs based on familiar classical melodies.
Teen Titans Go! See Space Jam
Teen Titans Go! See Space Jam
The Teen Titans are visited by the Nerdlucks, the Space Jam villains who tried to capture Michael Jordan and the Looney Tunes. Astonished to discover his fellow Titans have never seen Space Jam, Cyborg organizes an exclusive watch party. Of course, if the Titans are watching a movie, don't expect silence to be golden. Raven and Starfire provide the commentary, Cyborg presents the fun facts, Beast Boy points out the butt shots, and Robin, but Robin doesn't trust their new alien friends. Are the Nerdlucks here to attend an innocent watch party, or do they have more sinister motives up their sleeves?
Penguin Rescue
Penguin Rescue
When intergalactic space explorers get assigned their first mission, they must travel to a distant planet named Earth to save a little penguin that is stranded on a collapsing ice shelf.
Home
Home
When Earth is taken over by the overly-confident Boov, an alien race in search of a new place to call home, all humans are promptly relocated, while all Boov get busy reorganizing the planet. But when one resourceful girl, Tip, manages to avoid capture, she finds herself the accidental accomplice of a banished Boov named Oh. The two fugitives realize there's a lot more at stake than intergalactic relations as they embark on the road trip of a lifetime.
Space Dogs: Tropical Adventure
Space Dogs: Tropical Adventure
When a mysterious whirlpool appears in the Atlantic Ocean, astronauts Belka and Strelka must once again act heroically and complete a mission to save the planet along with the distant home of their new alien friends.
Extraordinary Tales
Extraordinary Tales
An animated anthology of 5 stories adapted from Edgar Allan Poe.
Bunyan and Babe
Bunyan and Babe
Travis and his sister, Whitney, visit their grandparents for the summer and fall through a magical portal which transports him to the world of American hero Paul Bunyan and his big, blue, talking ox, Babe.
Ice Princess Lily
Ice Princess Lily
A young dragon looking for his own fire must fight against an evil wizard with help of the beautiful ice princess, Lilli.
Pokémon 4Ever
Pokémon 4Ever
40 years ago, a Celebi was being attacked by a Pokemon Hunter. Luckily, a young boy named Sammy saved Celebi. Using its Time Traveling power, Celebi transported himself and Sammy 40 years into the future. There, Ash, Misty, and Brock assist Sammy to the healing lake in the forest so they can heal the wounded Celebi. Unfortunately an evil Team Rocket member, Viscious a.k.a. "The Iron Masked Marauder", tries to capture Celebi using his technology. As Ash and Co. try to get away from Viscious, they also run into Jessie, James, and Meowth, who also want to capture Celebi. Soon it becomes a race against time to get Celebi and Sammy back to the forest before Celebi is caught and is used to destroy the forest and themselves.
A wide selection of free online movies are available on GoStreams. You can watch movies online for free without Registration.