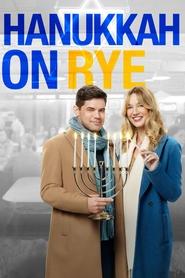 Hanukkah on Rye
A matchmaker connects Molly and Jacob, but their new romance is put to the test when they realize that they are competing deli owners. Will a Hanukkah miracle keep them together?
Thomas & Friends: The Adventure Begins
Thomas & Friends: The Adventure Begins
All aboard for Thomas' very first adventure! A little tank engine discovers a big new world when he arrives on the Island of Sodor. Escapades abound as Thomas explores his new home and meets some Really Useful new friends. Finding the true blue meaning of hard work and friendship, Thomas transforms into the Number 1 engine!
Notes From The Heart Healer
Notes From The Heart Healer
A single young mom forms an unlikely friendship with author Peyton, after a desperate situation forces her to abandon her child on Peyton's doorstep.
Neither Heaven Nor Earth
Neither Heaven Nor Earth
Afghanistan 2014 As the withdrawal of troops approaches, Captain Antarès Bonassieu and his squad have been assigned a surveillance mission in a remote valley of Wakhan, on the border of Pakistan. Despite Antarès and his men's determination, control of the secluded valley will slowly fall out of their hands. One dark night, soldiers begin to mysteriously disappear in the valley.
Long Forgotten Fields
Long Forgotten Fields
On Sam's return from military service, Lily sets her heart on revitalising their relationship, but with Sam's worsening PTSD isolating him from friends, family and the community, she too is drawn deeper into his post-war world.
Texas Killing Fields
Texas Killing Fields
In the Texas bayous, a local homicide detective teams up with a cop from New York City to investigate a series of unsolved murders.
The Party's Just Beginning
The Party's Just Beginning
In a bleak Inverness midwinter, Luisaidh is careering off the rails after the suicide of her best friend. She medicates her misery with joyless sex, chips and a belief in the power of positive drinking. Surrounded by bittersweet memories, she struggles to find someone to talk to or some reason to make life worthwhile at the most stressful time of the year.
Jack and Jill vs. the World
Jack and Jill vs. the World
Jack and Jill's Manifesto of Rules to Live By Rule 1 Be honest Rule 2 Believe in fairy tales Rule 3 Accept time as our friend Rule 4 Make sure the nooky is good Rule 5 Promote beauty. Wage a sustained campaign against ugliness Rule 6 Abandon the pursuit of happiness and its false promise Rule 7 Show compassion, except to pirates Rule 8 Less TV Rule 9 Always be willing to admit when you're wrong
How To Save Us
How To Save Us
Brian Everett's younger brother Sam goes missing on the island of Tasmania during the middle of a mysterious quarantine forcing Brian to traverse across enemy lines to save his brother from an army of ghosts.
Spirit: L'indomptable
Spirit: L'indomptable
Lucky Prescott's life is changed forever when she moves from her home in the city to a small frontier town and befriends a wild mustang named Spirit.
Murder My Sweet
Murder My Sweet
Detective Philip Marlowe is hired by hulking Moose Malloy to locate his old girlfriend that he lost track of while serving time in prison. With each lead he follows, Marlowe encounters lies, larceny, perjury, theft and a beautiful femme fatale. Based on Raymond Chandler's novel "Farewell My Lovely", which was also the film's title in the United Kingdom.
City Baby
City Baby
Sexy. Style-conscious. Extreme love affairs. Complicated friendships. Life happens all too quickly when Cloey is reluctantly plucked from her comfort zone and complete reliance on others is overturned – a secure relationship with her boyfriend unravels, her childhood best friend is moving away and daddy's (Daniel Baldwin) checkbook closes. City Baby comments on the ladder-climbing mentality of always reaching for the next bigger, better thing – relationship, city, job – when sometimes what's right in front of us is just fine. Scattered with cameos from Portland musicians like Stephen Malkmus of Pavement, live musical performances by Glass Candy and Starfucker, and a thoughtful soundtrack featuring all Portland bands and musicians, City Baby depicts a playground for semi-adults, revolving through the lives of cool kids.
Devoured
Devoured
An Intense, troubling film boasting a spectacular lead performance from Marta Milans. Greg Olliver's psychological thriller records with cold, clinical precision a young woman's gradual descent into madness.
A wide selection of free online movies are available on GoStreams. You can watch movies online for free without Registration.