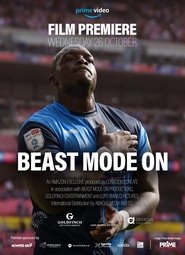 Beast Mode On
The extraordinary journey of Adebayo 'The Beast' Akinfenwa, twenty-years defying the odds; adored by fans, respected throughout the sport and commanding more attention than most.
Wont Back Down
Wont Back Down
From his humble beginnings in his hometown of Sheffield, England, Steve Peat has established himself as one of the worlds most iconic cyclists. Peaty has been competing at the top level in his chosen sport of downhill mountain bike racing for the past 23 years, longer than the lifetime of many of his current competitors. Through 20 years of archival footage and photos and intimate interviews with Steve, his family, close friends and competitors, Won't Back Down takes viewers on a captivating tour of the history of the sport of downhill mountain bike racing and offers a never-before-seen view into the life and legacy of this enduring icon.
Kenny
Kenny
An intimate and revealing portrait of Kenny Dalglish – the player, the man, the truth.
On the Record
On the Record
The haunting story of music executive Drew Dixon as she grapples with her decision to become one of the first women of color, in the wake of #MeToo, to come forward and publicly accuse hip-hop mogul Russell Simmons of sexual misconduct. A gripping and profound examination of race, gender, intersectionality, and the toll sexual abuse takes on survivors and on society at large.
Temple Grandin
Temple Grandin
A biopic of Temple Grandin, an autistic woman who has become one of top scientists in humane livestock handling.
Tokyo Idols
Tokyo Idols
This exploration of Japan's fascination with girl bands and their music follows an aspiring pop singer and her fans, delving into the cultural obsession with young female sexuality and the growing disconnect between men and women in hypermodern societies.
Invincible
Invincible
Inspired by the true story of Vince Papale, a man with nothing to lose who ignored the staggering odds and made his dream come true. When the coach of Papale's beloved hometown football team hosted an unprecedented open tryout, the public consensus was that it was a waste of time – no one good enough to play professional football was going to be found this way.
Don't Blink – Robert Frank
Don't Blink – Robert Frank
The life and work of Robert Frank—as a photographer and a filmmaker—are so intertwined that they're one in the same, and the vast amount of territory he's covered, from The Americans in 1958 up to the present, is intimately registered in his now-formidable body of artistic gestures. From the early '90s on, Frank has been making his films and videos with the brilliant editor Laura Israel, who has helped him to keep things homemade and preserve the illuminating spark of first contact between camera and people/places. Don't Blink is Israel's like-minded portrait of her friend and collaborator, a lively rummage sale of images and sounds and recollected passages and unfathomable losses and friendships that leaves us a fast and fleeting imprint of the life of the Swiss-born man who reinvented himself the American way, and is still standing on ground of his own making at the age of 90.
The Art of Political Murder
The Art of Political Murder
An investigation into the truth behind the murder of Guatemalan Bishop, Juan Gerardi, who was killed in 1998 just days after trying to hold the country's military accountable for the atrocities committed during its civil war.
The Fly Room
The Fly Room
When a wide-eyed 10-year-old girl visits her fathers insect laboratory, she receives an unorthodox education in genetics.
Teen Titans Go! See Space Jam
Teen Titans Go! See Space Jam
The Teen Titans are visited by the Nerdlucks, the Space Jam villains who tried to capture Michael Jordan and the Looney Tunes. Astonished to discover his fellow Titans have never seen Space Jam, Cyborg organizes an exclusive watch party. Of course, if the Titans are watching a movie, don't expect silence to be golden. Raven and Starfire provide the commentary, Cyborg presents the fun facts, Beast Boy points out the butt shots, and Robin, but Robin doesn't trust their new alien friends. Are the Nerdlucks here to attend an innocent watch party, or do they have more sinister motives up their sleeves?
I, Curmudgeon
I, Curmudgeon
Curmudgeon. Contrarian. Misanthrope. Naysayer. For all the people interviewed in this film, someone has used one of the above words to describe them. What have they done to deserve such labels? Everywhere these men and women go, something is being celebrated; they don't get what all the celebration is about and they're compelled to question it.
Manolo: The Boy Who Made Shoes for Lizards
Manolo: The Boy Who Made Shoes for Lizards
An in-depth portrait of MANOLO BLAHNIK, self-confessed 'cobbler' and the man regarded by most influential fashion figures as 'the best shoe-maker of the 20th and 21st centuries. A film for anyone who has ever looked longingly at a pair of… 'Manolos'
A wide selection of free online movies are available on GoStreams. You can watch movies online for free without Registration.